Chestnut gnocchi on a goat's milk blue cheese fonduta with mixed berries
Chestnut gnocchi on a goat's milk blue cheese fonduta with mixed berries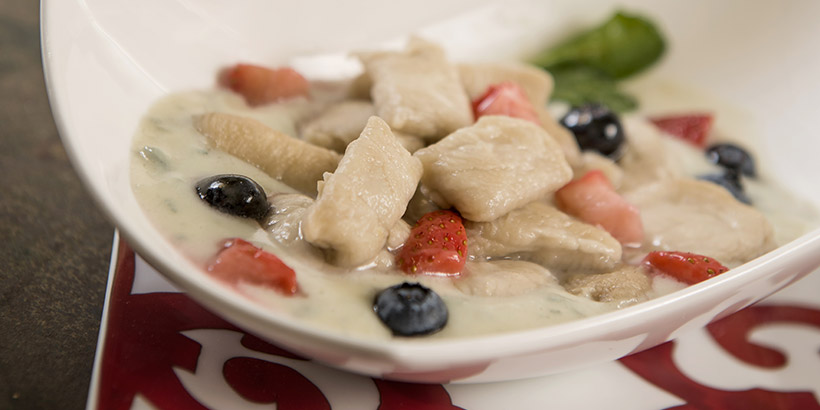 Ingredients for 4 servings:
To make the gnocchi:
100 g boiled potatoes, rinsed and cooled
300 g boiled chestnuts, rinsed and cooled
90 g "00" milled flour
30 g chestnut flour
1 egg
100 g cow's milk ricotta cheese
½ teaspoon chestnut honey
Salt to taste
Pepper to taste
1 pat butter
2 sage leaves
8 baby spinach leaves
To make the fonduta:
200 g fresh whole cream
120 g goat's milk blue cheese
To prepare the mixed berries:
100 g berries (red currents, blueberries, strawberries chopped finely)
30 g sugar
Directions:
Cook the potatoes with their skins still on, cool and mash. Cook the chestnuts in their hulls, peel and clean, mash. Combine the two purées with the white flour, chestnut flour, egg, ricotta cheese, honey and salt and pepper. Knead the dough and form individual gnocchi the size of hazelnuts. To make the goat's milk blue cheese fonduta: Bring the cream to a boil, remove from heat and add the goat's milk blue cheese, stir until melted, pour through a sieve to filter. To prepare the mixed berries: Sauté the berries in a saucepan with the sugar for about 2 minutes. Set some aside for the garnish; cook the remaining berries for an additional 5 minutes. Blend and filter out the seeds.
Plating:
Cook the gnocchi in a large pot of boiling water until they rise to the top, then sauté them in a small pan with the butter and sage, cover the bottom of the dish with the goat's milk blue cheese fonduta and arrange the sautéed gnocchi on top. Arrange several whole mixed berries on top and use the remaining berry sauce to decorate. Finish with a few leaves of fresh baby spinach.
Recipe by the Lecchi family - Ristorante Villa Patrizia // with goat's milk blue cheese