Valtaleggio Map by casArrigoni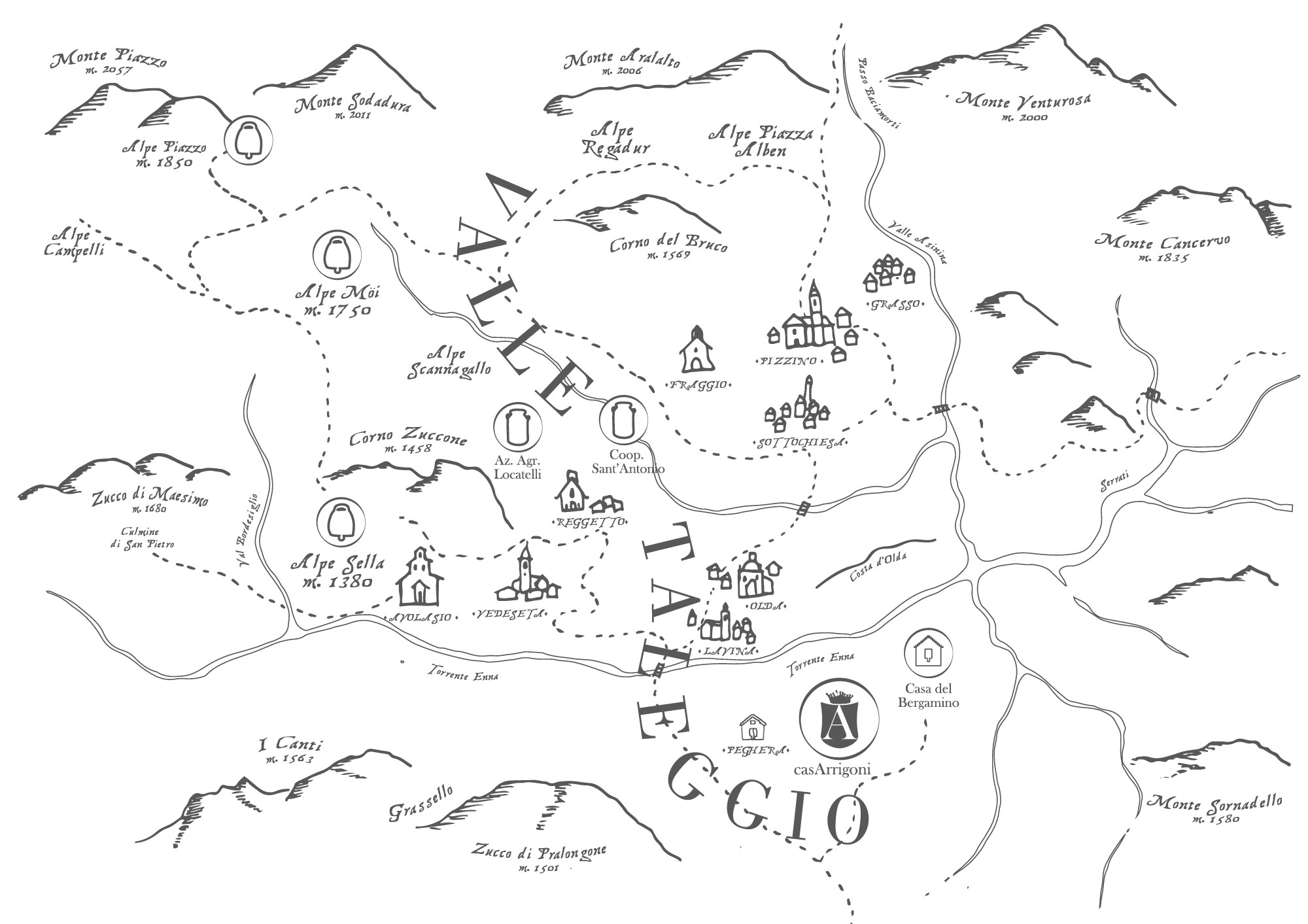 Inspired by numerous community maps, we have decided to take a moment and think about our relationship with Val Taleggio, creating our own map. We would like to take you into the paths of the Valley dairy story and tell you about the region we work in.
This map, whose intention is not to be thorough, will outline a path in progress and it is based on a cartographic representation of the early seventeenth century, made by Pietro Redolfi, and now preserved in the National Library of France.
In our newly designed logo stands out the district of Peghera, in the Taleggio municipality, where our headquarters are based.
The House of bergamino (La Casa del bergamino) is close by. This is an historical building in the Costa district, where we plan to open a small museum dedicated to the life of bergamini.
In our map you will also find some of the alpine pastures, where the local breeders' Brown Swiss cows spend the summer browsing the high altitude excellent grass. These are the farm companies that are actively participating to the production of our cheeses that we sell worldwide.
This beautiful map does not end with its graphics as we intend to start a process for developping an ongoing, and always up to date, reflection on the relationships in this region because we are convinced that the future of our company is deeply connected with Val Taleggio.
It is very important to us that the value of typical products, which we treasure, is well communicated and protected. If, with our cheeses we contribute to "making" the region, with this map we "say" it.
LEGEND
| | |
| --- | --- |
| | Our headquarters |
| | The house of Bergamino: we are responsible for this story and we want to tell it in this little museum |
| | Companies producing raw milk cheeses |
| | Alpine Pastures where brown swiss cows graze during summertime |